2018 Pre-Congress Workshop 14: Increasing Supportive Caregiver Involvement and Decreasing Obstructive Behaviours: Lessons Learned from Emotion-Focused Family Therapy
Jun 24, 2018 09:00AM
Palais des congrès de Montréal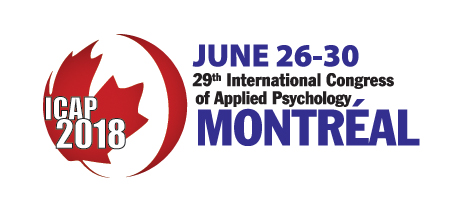 Presented by:
Adele Lafrance
Sponsored by:
Family Psychology
Continuing Education Credits:
6
Notes:

Background in family therapy is not required.

Cost:

CPA/IAAP Members: $295.00 + GST + QST

Non-Members: $350.00 + GST + QST

Delegate categories will be as per the World Bank Economic Categories:

Category A = Higher-income economies (GNI per capita: $12,236 or more)
Category B = Upper-middle-income economies (GNI per capita: $3,956 to $12,235)
Category C = Lower-middle-income economies (GNI per capita: $1,006 to $3,955) & Low-income economies (GNI per capita: $1,005 or less)

Click here to download the country list
If you are a Non-Canadian Resident residing in a Category B or C country, please click here.


Duration:
Full Day (9:00 – 16:30)
Target Audience:
Researchers, clinicians and graduate students
Skill/Difficulty Level:
Introductory level

Workshop Description:

Part of the Emotion-Focused Therapy "family", and influenced by interpersonal neurobiology, the essence of Emotion-Focused Family Therapy (EFFT) is to support caregivers to increase their role in their loved one's recovery from mental health issues. The clinician's role is to support parents to increase their involvement in:

behaviour coaching through the interruption of symptoms,
emotion coaching through the processing of avoided or suppressed emotion, and
relationship repair through the healing of parent, child and family wounds.

One of the key strengths of the approach lies in the fact that clinicians can support caregivers to take on these roles regardless of their loved one's age or involvement in formal treatment themselves, creating hope for those families when their child refuses service.

Throughout treatment, the clinician also seeks to transform "emotion blocks" in caregivers that may lead to therapy-interfering attitudes or behaviours such as denial, criticism of accommodating and enabling behaviours. Recent EFFT research has revealed that these caregivers are not unable or unmotivated to act as positive agents of change. Rather, they are paralyzed by "emotion blocks" such as fear and self-blame. As such, the treating clinician employs specific EFFT techniques to attend to and process these emotion blocks in order to harness the healing power of caregivers.

This workshop will begin with an overview of the EFFT model followed by outcome and process research. EFFT techniques that can be integrated into existing treatment models will be presented using video, demonstrations and an experiential activity.

Learning Outcomes:


Ability to recognize the emotional processes underlying problematic behaviours in clients and therapists.
Ability to increase parental involvement in family therapy.
Ability to intervene to aid parents to help process their children's overt and underlying emotions.
Ability to resolve parental emotional blocks to increase their motivation and caregiving abilities.
Ability to resolve clinicians' emotional blocks to increase their motivation and therapeutic abilities.