2018 Pre-Congress Workshop 10: Perfectionism: A Dynamic-Relational Approach to Conceptualization, Assessment, and Treatment
Jun 24, 2018 09:00AM
Palais des congrès de Montréal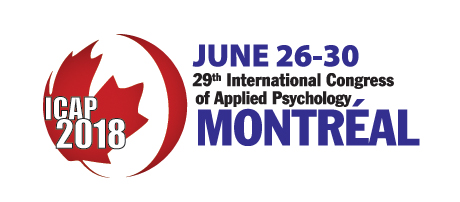 Presented by:
Paul Hewitt, Samuel Mikail
Sponsored by:
Clinical Psychology
Continuing Education Credits:
6
Notes
-
Cost:

CPA/IAAP Members: $345.00 + GST + QST

Non-Members: $425.00 + GST + QST

CPA/IAAP Student Affiliates: $230.00 + GST + QST

Delegate categories will be as per the World Bank Economic Categories:

Category A = Higher-income economies (GNI per capita: $12,236 or more)
Category B = Upper-middle-income economies (GNI per capita: $3,956 to $12,235)
Category C = Lower-middle-income economies (GNI per capita: $1,006 to $3,955) & Low-income economies (GNI per capita: $1,005 or less)

Click here to download the country list
If you are a Non-Canadian Resident residing in a Category B or C country, please click here.


Duration:
Full Day (9:00 – 16:30)
Target Audience:
Clinicians, graduate students, and perfectionism and psychopathology researchers
Skill/Difficulty Level:
Intermediate level

Workshop Description:

This workshop provides extensive coverage of our dynamic-relational conceptualization, assessment, and treatment for perfectionism, a maladaptive personality style that increases an individual's vulnerability to various forms of maladjustment, including: mood, anxiety, personality, and eating disorders; marital distress; suicide behaviour; and physical health, relationship, and achievement problems. Based on our extensive research and clinical work on perfectionism over the past 30 years, we have developed a conceptualization of perfectionism based on psychodynamic and interpersonal principles that serves as a platform for assessment and individual and group psychotherapy of perfectionism. Participants in this workshop will be introduced to an empirically-based multidimensional model of perfectionistic behavior and its assessment and treatment. Throughout the workshop reference is made to supporting research literature; however, the predominant emphasis will be applied by drawing on extensive use of case material and experiential components. Participants will have the opportunity to review and discuss clinical interviews accompanied by supporting assessment profiles to gain familiarity with the manner in which we develop case formulations to guide treatment. Participants will also be introduced to a dynamic-relational model of treatment that can be applied within both an individual and group psychotherapeutic context and review and discuss video footage of individuals and groups in the treatment. Much of the content of the workshop is based on our recently published work: Hewitt, Flett, & Mikail (2017) Perfectionism: A Dynamic ­ Relational Approach to its Conceptualization, Assessment, and Treatment. New York: Guilford Press.

Learning Outcomes:


Become familiar with our comprehensive model of perfectionism.
Be introduced to a model of case formulation used to guide treatment based on attachment, interpersonal, and psychodynamic theories.
Gain experience with developing and refining a case formulation based on case material presented.
Be introduced to a comprehensive set of measures used in measurement of treatment progress and outcome.
Participate in experiential components of the workshop to enhance learning of specific elements of the formulation and treatment.
View treatment videos and discuss individual and group treatment videos o enhance the understanding of treatment protocols.