2023 CPA Annual National Convention
June 23 - June 25, 2023
Sheraton Centre Hotel (Toronto, ON)
---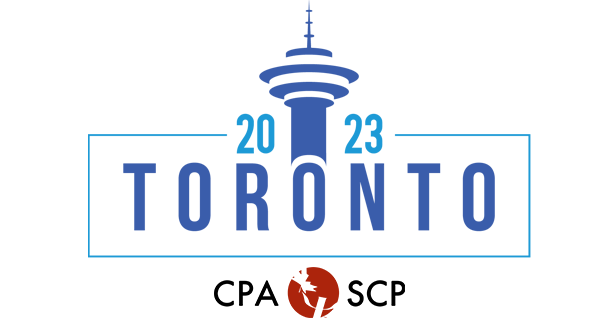 Join the CPA and more than 1,400 of your peers and colleagues from coast to coast, at Canada's largest learning, sharing, and networking event dedicated to those engaged in the science, practice, and education of psychology in Canada - the CPA's Annual National Convention and tradeshow.

| | |
| --- | --- |
| ✔ | LEARN more about best practices |
| ✔ | GROW your standing within the profession by increasing your knowledge, profile, and visibility |
| ✔ | SHARE in the innovation that is happening in your profession |
| ✔ | NETWORK with peers and subject matter experts from coast to coast |
| ✔ | CONNECT with your national association and gain new insight into your profession's challenges and needs |
Registration Fees:
Registration Type

Early Bird

(February 15 – April 26, 2023 23:59 EST)

Regular

(April 27 – June 22, 2023 23:59 EST)

On-Site

(June 23 – June 25, 2023 15:00 EST)

CPA Members*

$300+tax

$375+tax

$450+tax

CPA Honorary Life, Honorary Fellow and Retired Member

$180+tax

$225+tax

$270+tax

CPA Student Affiliates**

$140+tax

$175+tax

$210+tax

CPA Section Associate and Special Affiliates

$395+tax

$495+tax

$700+tax

Non-Members

$650+tax

$800+tax

$960+tax

Student Non-Affiliates

$260+tax

$320+tax

$380+tax

Companion/Significant Other (Daily Rate)***

$100+tax

$100+tax

$100+tax

*Includes CPA Full Members, Early Career Year 1 & 2, Parental Leave, CPA Fellows, CPA-APA Joint Members, CPA-APA Joint Fellows
**includes International Student Affiliates
Companion Rate

There is a special rate for companions of presenting authors only - cannot be a psychologist, student in psychology, member, honorary life member, or student affiliate of the CPA or a provincial psychological association, nor a presenter at the convention. Should they fall into any of these categories, appropriate registration rates or fees will apply.

Due to limited space and seating, companions may only attend sessions on the day for which their ticket is purchased.

N5

CPA Members who register for CPA2023 may also access 5th North American Correctional and Criminal Justice Psychology Conference sessions.

Rebates

Pre-Convention Professional Development Workshop Rebate

New this year:

Individuals can register for the 2023 CPA Annual Convention and a Pre-Convention Professional Development Workshop in one transaction; individuals doing so can receive a 10% rebate of their registration total after the Convention.

Go to https://convention.cpa.ca/registration/registration-fees/ for details, or email us at convention@cpa.ca.

Preach

CPA Convention Registrants who also registered separately for Preach are eligible for a 10% rebate off their CPA Annual National Convention registration fee. Go to https://convention.cpa.ca/registration/registration-fees/ for details, or email us at convention@cpa.ca.

Click here to apply for a rebate. Rebates will only be sent out after the Convention. Deadline to apply for rebates is July 31st, 2023.
CPA Annual National Convention Registration – Cancellation Refund Policy
• 25% of the registration fees refunded up until April 26th

• NO REFUND as of April 27th